Here's our list of must-do things around the world to help inspire your own. If you haven't done them already, you should definitely add it to your travel bucket list!
1. Scuba dive in the Great Barrier Reef, Australia
The Great Barrier Reef is a 2,300km long-ecosystem making it the largest coral reef in the world. The magnificent reef is teeming with countless species of marine life and has always been one of the top destinations for divers and snorkelers.
2. Bungy jump into a ravine in New Zealand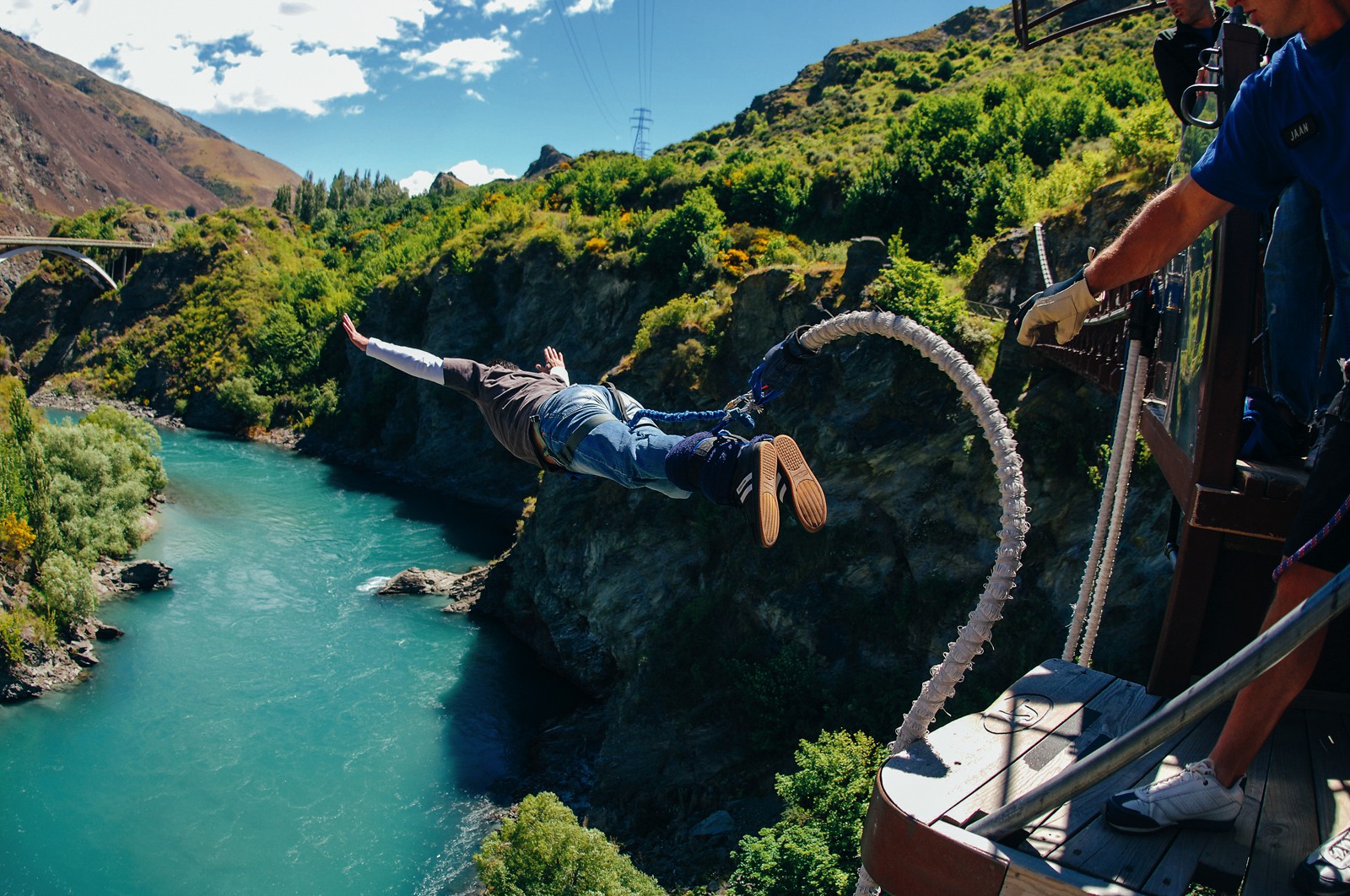 Queenstown, New Zealand is home to the World's First Bungy. Take a leap and bungy jump off Kawarau Bridge, an absolute must-do when in Queenstown.
3. Skydiving over Lake Wanaka, New Zealand
Skydiving is undoubtedly the best way to see New Zealand. The epic views from 12,000 ft in the air will take your breath away. Be in awe of New Zealand's highest mountains – Mount Cook and Mount Aspiring, alpine lakes, and the high country on a tandem skydive in Lake Wanaka.
4. Wash an elephant in Chiang Mai, Thailand
Riding elephants in a Thailand is so passé. The must-do thing in Chiang Mai now is to visit the Elephant Nature Park, an elephant sanctuary and give a hand at washing the elephants! It's the best way to appreciate and connect with these giant gentle beasts up close.
5. Climb the Great Wall of China
China's greatest engineering triumph and must-see in China, the Great Wall stretches over 21,000km of land starting from the Manchurian ruins in Liaoning province and ending at Jiayuguan Pass in Gansu province. The most robust and most visited section of the Great Wall is located in Beijing and is actually rather steep making it more of a climb rather than a walk. If you're too tired from your climb up to climb down, you can always ride the luge down.
6. Go ice fishing in Korea
In wintertime in Korea, temperatures plummet and it gets so cold that lakes and rivers freeze over. Despite the biting cold there's still a hive of activity around some lakes where ice fishing festivals are held. Visitors fish from a hole in the ice or catch the fish with their bare hands! And then devour their catch sashimi style.
7. Bathe in a traditional Japanese Onsen
Famed for its rejuvenating powers and healing properties, Japanese onsen or hot spring is a cultural aspect of Japan and bathing in an onsen would be the perfect way to experience a small part of Japanese life.
8. Float over the surreal landscape of Cappadocia,Turkey in a hot air balloon
Get up into the air and witness some of the most stunning sunrises in Turkey from a hot air balloon basket and get a bird's eye view of the surreal landscape of Cappadocia as you drift over fairy chimneys and pigeon houses. The hundreds of hot air balloons in the sky at the same time is also a beautiful sight to behold.
9. Enjoy a mud spa in Jordan
Get some spa time in when in Jordan by bathing in the salty waters of the Dead Sea and slathering on some mineral rich mud from the lake's shores which contains 21 minerals - 12 of which cannot be found in any other body of water in the world. People have been coming here for millennia to take advantage of the curative properties of the waters and the mud, so why shouldn't you?
10. Ride the sands of Arabia in a 4x4 Land Cruiser in Dubai, UAE
Go on a modern day Arabian adventure by taking a 4x4 desert safari sliding around the vast and exotic sand dunes. This is exciting dune drive is a must for anyone visiting Dubai.
11. Sandboarding in Dubai, UAE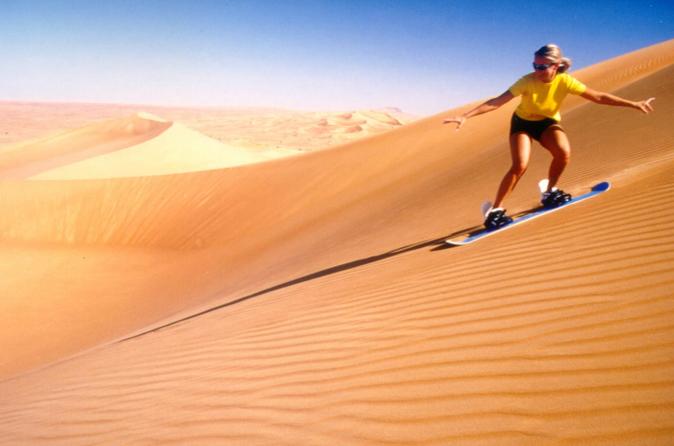 If cruising around the Arabian Desert in a 4x4 isn't exciting enough, you can always surf on the Dubai dunes instead. Slide, steer and surf down some of the most beautiful sand dunes in Dubai on a sandboard for a new and thrilling way to experience the Arabian Desert.
12. Trek the Himalayas
Since the first successful ascent of Mount Everest more than 60 years ago, trekking the Himalayas has become much easier. There are treks to suit everyone which range from the easy to the difficult to the strenuous and beyond. And depending on which month of the year you decide to trek the Himalayas, it's not just snow-capped mountains you will see. You may also see valleys carpeted in colourful flora, lush greenery and beautiful pristine lakes.
13. Surfing in Hawaii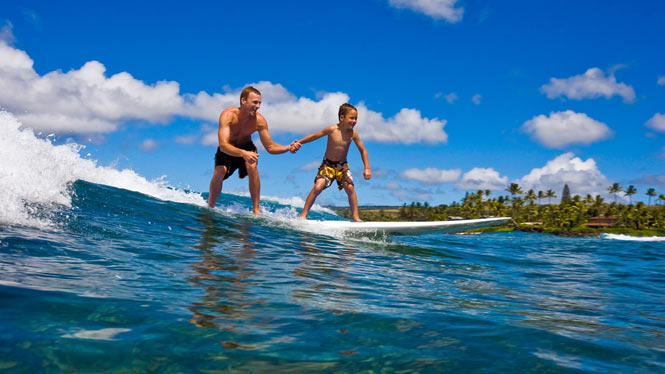 You can't go to Hawaii and not ride the waves. This Polynesian paradise is the birthplace of big wave surfing and the surfing mecca of the world. Hawaiians have used wood planks to ride the waves for centuries and there's no better place in the world to learn how to surf. With surfing lessons for beginners in almost every island, you'll be hanging ten in no time.
14. Canoeing in Sweden
One of the best ways to discover wild Swedish Lapland, Sweden's longest river and 10,000 lakes of Vӓrmland province is in a canoe. From north to west, east to west in Sweden, you wouldn't have any problems looking for a place to paddle your canoe.
Book a holiday with Summit Holidays and start crossing things off your own must-do things around the world list!