We may be used to the heat but this year it's practically unbearable. It's time to get away from this horrible heat wave and enjoy some natural air-conditioning. But where can you go with summer creeping upon the Northern Hemisphere? Here are three ways you can escape the heat.
HEAD UP NORTH
You don't have to head all the way to the North Pole to escape the summer heat. There are many places 'up north' which are way more accessible and with pleasantly cool weather in summer.
Reykjavik, Iceland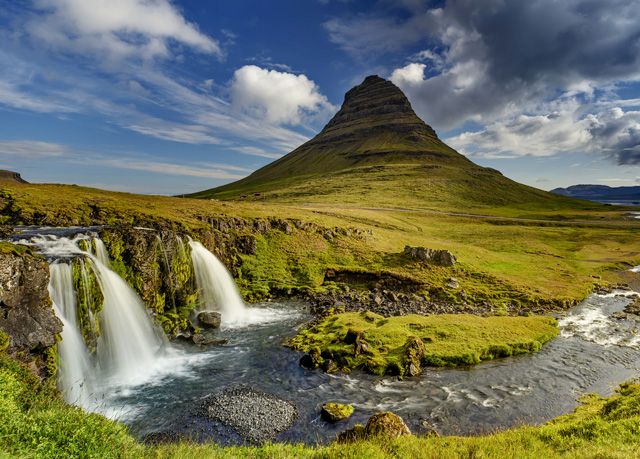 The summer months in Iceland are one of the most interesting times to visit this mystical land with its breath-taking natural beauty and endless summer days. In June, Iceland experiences a natural phenomenon called the Midnight Sun, where the sun never really fully sets and remains visible 24 hours a day. With daylight 24/7, it's awesome for sightseeing as you never need to rush to get somewhere before it gets dark – because it doesn't! Endless hours of sunlight and the crisp cool weather with temperatures hovering between 10°C and 18°C make Reykjavik, Iceland the perfect place to spend the summer without breaking a sweat.
Stockholm, Sweden
Even in the middle of summer, the temperature in Stockholm averages around a pleasant 18°C. In the summer months of June and July, temperatures peak at a mere 22°C making it perfect weather to enjoy outdoor activities like Skansen, an open-air museum with farmsteads and a zoo, and Djurgården, an island in central Stockholm which is home to historical buildings, monuments, museums and an amusement park. You'll still need to pack a light jacket for chillier evenings when temperatures fall a little below 15°C.
San Francisco, USA
Despite being located in 'Sunny California', the San Francisco or the 'Bay Area' as locals call it, enjoy a very temperate climate the whole year round. Summer months in San Francisco, from June to August enjoy average high temperatures of between 19°C in June and 23°C in July with overnight lows of 11°C to 15°C. The weather is perfect for a cruise around the bay to snap pics of the iconic Golden Gate Bridge and exploring Fisherman's Wharf, the historic waterfront district of San Francisco.
HEAD DOWN SOUTH
The polar opposite of the Northern Hemisphere, over in the Southern Hemisphere, Christmas is spent in the hot summer months and winters in the middle of the year.
South Island, New Zealand
The North Island of New Zealand, where the cities of Auckland and Wellington are located, may experience subtropical weather, but the South Island has more of a temperate climate. The further south you go, the colder it gets, but not too cold that it's unbearable. Christchurch, aptly named 'The Most English City Outside England' and the ski haven of Queenstown sees average high temperatures of 10°C to 12°C and average lows of 1°C to 3°C during the winter months. It's the season where Queenstown comes alive with an array of winter events and people flock there to enjoy easy access to some of New Zealand's finest ski and snowboard terrain as well as marvel at the magnificent snow-capped mountains and scenic green valleys.
Melbourne, Australia
Melbourne is infamous for its very changeable weather, and often people say you may experience 'four seasons in one day'. During the winter months from June to August, daily average temperatures can drop to 7°C with a high of 14°C. The winter season is the best time to enjoy the cultural side of Melbourne as the city celebrates art, film and theatre. Impressive and exiting exhibitions would be on show both at the National Gallery Victoria and the Australian Centre for the Moving Image (ACMI), as well as musicals and operatic performances around the city and catch movies at the Melbourne International Film Festival (MIFF) which runs from the end of July till mid-August.
Cape Town, South Africa
Cape Town enjoys a Mediterranean climate with dry warm summers and mild winters. During the winter months from end of May through to August, average high temperatures are a pleasantly cool 17°C with a minimum temperature of 8°C. And if you don't mind bursts of rain and a little wind at times, the winter season, being the off-peak season for Cape Town, make it a great time to see all this beautiful coastal city has to offer without having to fight the crowds. From wine tasting at Steenberg Wine Estate, to taking a walk above the treetops of the Kirstenbosch Botanical Gardens, and not forgetting shopping and enjoying live music at the Bay Harbour Market, there's still plenty to do during winter in Cape Town.
HEAD UP HIGH
Traditionally, people would head up to the highlands or mountains to cool off during hot summer months. Why break with tradition?
Edinburg, Scotland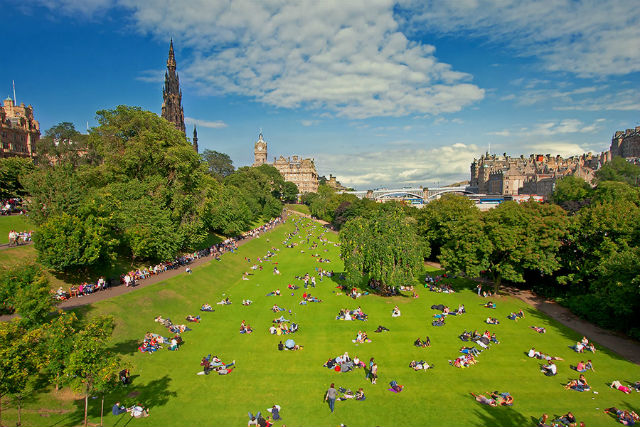 Summer is probably the most amazing time to holiday in the Scottish Highlands. The so-called hottest month in Edinburgh is July with an average temperature of 15°C! Summer is when the Edinburgh, the capital city of Scotland, is buzzing with activities, festivals and events. Highland Games run throughout the entire summer and The Edinburgh Fringe Festival runs for a full three weeks in August.
Machu Picchu, Peru
Although this ancient Peruvian city is situated near the equator, it's still relatively cool during the 'summer months' of June to August, as it lies about 8,000 above sea level. Machu Picchu experiences the least rainfall in the dry months of June and July, and temperatures average about 25°C, making it the best time to visit this hilly Incan landmark and UNESCO World Heritage Site.
Thimphu, Bhutan
The best time to visit Bhutan is generally in spring and autumn, but summer which happens to be the off-peak season and coincidentally the rainy season has its own draw and attractions. Due to the effects of the Indian Monsoon shifting to late-June to late-September, the rainy season has been starting later, usually in July instead of June. And when it does rain it's usually confined to the afternoons. The pleasant average temperatures of 25°C make it ideal to discover the many historical and cultural sites as well as enjoy Bhutan at its 'greenest' with sapphire skies and full of clear streams and waterfalls. In the high mountain regions the average temperature is a very manageable 10°C and summer is when high-altitude flowers are at their peak.
If you're sick of the stifling heat, the sweaty stickiness and multiple showers you've had to take, book a cool getaway (pun intended) with Summit Holidays today.