Taiwan may be known for inventing Bubble Tea, the Taipei 101 and stinky tofu, but that's not all. Little do people know it has some of the most stunning natural sceneries in Australasia and an advocate for LOHAS (Lifestyles of Health and Sustainability) living. Read on to find out how holidaying in Taiwan will make you a happier and healthier person.
1. It's a foodie's paradise (and eating can make you happy)…
'Eating is Happiness' and you couldn't be happier dining in Taiwan. The local cuisine is unlike that of other Asian countries. Though Taiwan may be predominantly Han Chinese, the cuisine is a fusion of Chinese recipes and cooking styles with the ingredients and culinary traditions of the local aboriginal people with a dash of Japanese influence. From the traditional hearty beef noodle soup and fatty minced pork on rice to the infamous stinky tofu and delectable street eats, you'll surely be increasing your serotonin levels as you eat your way through Taiwan.
2. …and the land of fruits (to cleanse your insides).
As Taiwan is located in a subtropical zone it's the perfect location for cultivating a variety of fruits. From the local varieties such as pink guava, wax apples and "Buddha's Head", which you will not find anywhere else, to the northern varieties such as persimmons, Asian nectarines and nectarines, they're all grown here. The wide variety of fruits in Taiwan makes it the perfect holiday destination where you can discover and consume copious amounts of fruit and give the old intestines a good cleansing. There are even farms and orchards in Taiwan where you can experience the fun of harvesting your own fruit.
3. There's a lot of tea drinking here which is good for you.
Tea will warm you if you're cold, and cool you if you're heaty. It will cheer you up if you're depressed and calm you if you're excited. These magical elements of tea coupled with the fact that it is an anti-oxidant make it a good idea to consume it. Taiwan is famous for its tea, especially Oolong tea, black tea and green tea. There are more tea houses in Taiwan than there are Starbucks or 7-Elevens. So, get a natural detox with tea when you are holidaying in Taiwan.
4. Taiwan is the shopping Mecca of the east and the best place for some retail therapy.
Taiwan is home to Dream Mall, the largest shopping mall in Taiwan and East Asia. The mall is a 400,000 sq metre shopping heaven and has 2,300 retail stores and services. Apart from this colossal shopping mall, there's Taipei 101, Ximending shopping district and a great number of interesting night markets where you can find bargains and great eats, making Taiwan the ideal holiday destination for some retail therapy.
5. The breath-taking nature…
Portuguese explorers in the 16th century named Taiwan, Formosa Island, for its stunning natural beauty which boasts some of the most beautiful scenery that rivals New Zealand. Immersing yourself in the great outdoors of Taiwan will surely calm your mind and soul making you a happier and healthier person.
6. …and the many ways to enjoy it.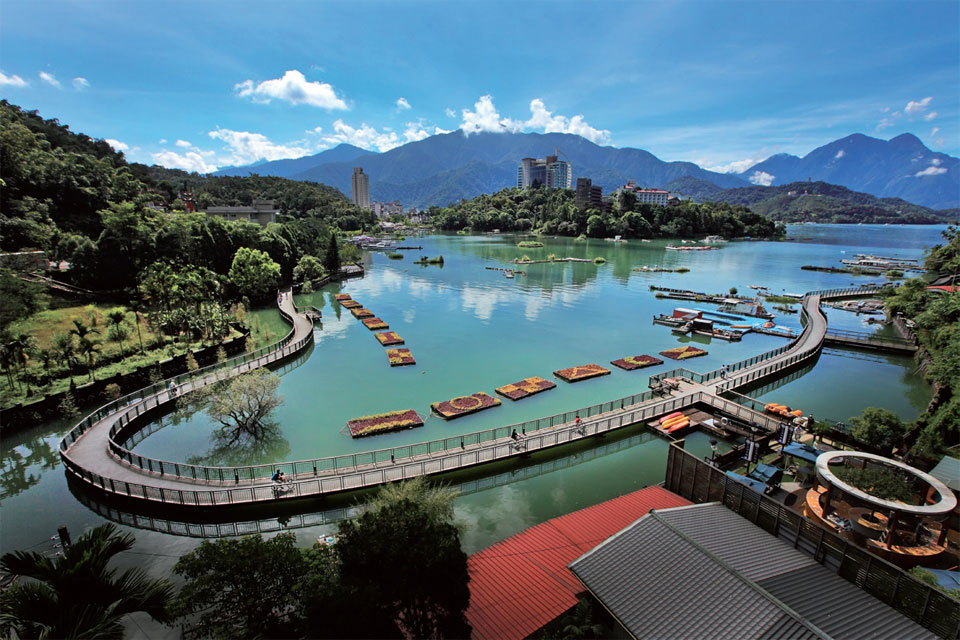 Holidaying in nature and escaping the trappings of city life is a big thing in Taiwan and there are many services and amenities set up to do just that. You can bike around the famous Sun Moon Lake, take a nature hike through the jungle, or walk across Taiwan's Houtanjing Sky Bridge, a 204 meter long suspension bridge in Nantou City.
7. Don't forget the hot springs! To soak your stress away.
After the Onsen-loving Japanese, Taiwanese are the greatest appreciators of hot springs. Taiwan also has more than 100 hot springs and the greatest variety of thermal springs in the world. Visit one when in Taiwan and spend the day soaking your stress away.
8. Zero stress getting there.
Sometimes planning a holiday and organising all the necessary travel documents can be a stress inducer in itself. But if you're Malaysian, good news for you! You don't need a Visa to visit Taiwan. Plus there's Summit Holidays to do all the planning and organising for you. All you need to do is pack and get on the plane.
Make your next getaway a stress-free one with Summit Holidays, and holiday in Taiwan, one of the most underrated destinations in Asia.