Add this to your travel bucket list! From an underwater restaurant buried in the Maldivian sea to dining with giraffes in Kenya, these 14 restaurants are going to give you the most unforgettable dining experience!
1. Luxurious in-flight dining at ground level
Restaurant: A30 In-Flight Kitchen
Where: Taiwan
You no longer need to book an expensive flight to enjoy a luxurious dining experience on a plane. A380 In-flight Kitchen in Taiwan is furnished to have an authentic airbus atmosphere, making the in-flight dining experience feel realistic; down to the oval-shaped windows, overhead baggage compartments, plastic trays and boarding passes for waiting customers.
Here, waitresses are dressed and trained to speak and behave like flight attendants when they attend to the customers.
2. Entrees with a side of ninja-danger
Restaurant: Ninja New York
Where: New York, USA
Here's a restaurant that plates up not just your entrees but also some exciting Ninja action! Ninja New York has got its waiters performing impressive kung fu stunts while carrying swords. Even some of the dishes served here have got elements of danger in them! This is apparent in their popular chopped conch in garlic-butter sauce, which bursts into explosive flames upon being lit.
3. Dining in the sky while suspended hundreds of feet from the ground
Restaurant: The Singapore Flyer
Where: Singapore
As dining in the sky is increasingly becoming a trendy gastronomical experience, this Singaporean observation wheel suspended in mid-air strives to live up to the hype. Diners will be able to enjoy several courses of meals while witnessing the breathtaking view of the sunset across Marina Bay Sands.
4. Thai tree-pod dining while hanging on a tree
Restaurant: Soneva Kiri
Where: Bangkok, Thailand
This is no ordinary tree house dining experience. Guests are first seated inside the bamboo pod and once settled, the pod is hoisted up and suspended 16 feet above the ground. The pod is overlooking Bangkok's vast greenery and beautiful aqua coastline. Waiters would zip-line to the pods to attend to the diner.
5. Beautiful glass restaurant completely immersed underwater
Restaurant: Ithaa Undersea Restaurant
Where: Maldives
Known as one of the most beautiful restaurants in the world, Ithaa Undersea Restaurant in Maldives is literally immersed underwater and surrounded by a curved glass wall to give patrons a panoramic view of the ocean life.
6. Hospital + Nightclub = Restaurant
Restaurant: DS Music Restaurant
Where: Taiwan
Taiwan is very famous for its variously themed eateries and DS Music Restaurant is one of them! This place combines a hospital vibe with a nightclub scene. Meals are brought over by nurses on medical carts and food is often served in test tubes, syringes, IV drips and beakers.
7. Buffet spread directly beside a cascading waterfall
Restaurant: Lebassin Waterfall Restaurant
Where: Philippines
Patrons are calf-deep in water as they devour their meals here at Lebassin Waterfall Restaurant in Philippines. As it's often hot and humid, this concept gives diners a cooling and refreshing dining experience. The food here is a buffet of local Filipino delicacies and a must-try.
8. Scenic Chinese Restaurant attached to an ancient cave by Yangtze River
Restaurant: Fangweng Restaurant
Where: China
This scenic restaurant is perched in a cave that stretches along the riverside. Diners are able to observe the calming view of Chang Jiang waters flowing into the Yangtze River. The dining space is decorated with Chinese-inspired interior. For those who don't fancy the tranquility of the river and crave a little more excitement, there's a nearby bungee jumping platform for those who want to give it a go.
9. Gorgeous Italian restaurant with tables literally at the edge of a cliff near the sea
Restaurant: Ristorante Grotta Palazzese
Where: Italy
There is nothing more spectacular than enjoying authentic Italian cuisine at a cliff-side restaurant overlooking Italy's Adriatic Sea. Half of the restaurant is spread out inside a limestone cave while a handful of tables were lined up near the edge of the cliff.
For those of you who are thinking of dining here, it is worth noting that this restaurant is only operating during summer months.
10. Fancy having a cup of tea while sitting beside an ancient tombstone?
Restaurant: New Lucky Restaurant
Where: India
This restaurant is "dead" serious about giving customers a unique dining experience when it decided to incorporate the presence of corpses in its restaurant. New Lucky Restaurant, situated in the heart of Ahmedabad, India, is built right on top of a Muslim burial ground and is very popular for their delicious milky tea and buttery rolls.
The owner, Krishan Kutti Nair, claims that graveyards are a sign of good luck. This seems to explain its apt name; which must be true, judging by the rapid success of his flourishing graveyard restaurant.
11. Tokyo cafe sets lone customers up on impromptu blind dates with plush toys
Restaurant: Moomin Café
Where: Japan
While dining alone has become an acceptable norm in the western parts of the world, solo dining is considered a social taboo in Asia. Moomin Café in Tokyo decided to do something to address this and came up with the thoughtful idea of providing large plush toys to accompany any party of 1.
It has certainly worked as the cuteness factor of these plush toys was more than enough to attract buzz and attention to this Japanese Café.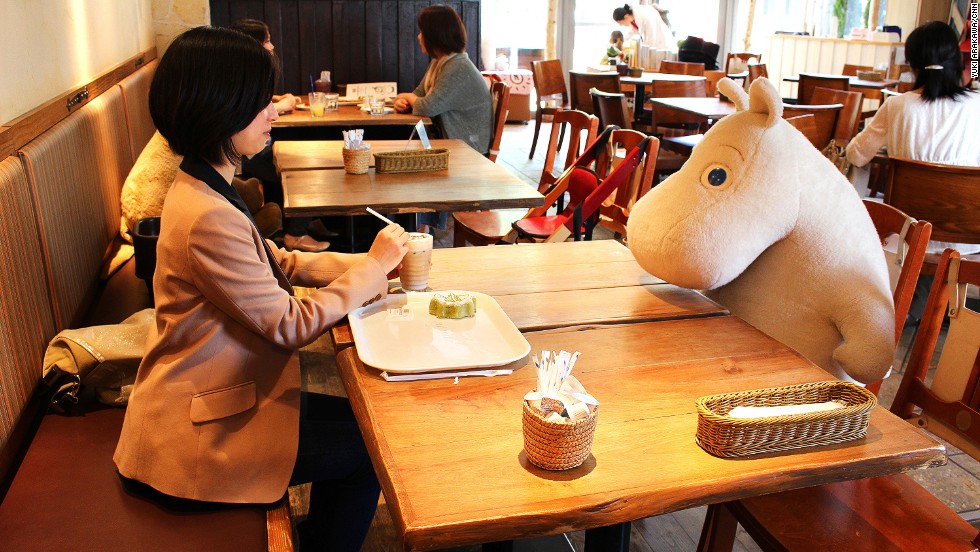 12. Only single tables are available here to reduce the stigma of eating alone
Restaurant: Een Maal
Where: Amsterdam, Berlin and London
This restaurant that started off in Amsterdam recognizes the rising trend of solo dining and revolved an entire eatery catering to just lone diners! The restaurant is furnished with a cluster of individual square desks and chairs.
Its owner expressed that Een Maal is a great place for people to enjoy their meals quietly and temporarily disconnect with others as society nowadays are already hyper-connected, thanks to social media.
13. You can only enter this super secret spy-restaurant if you know the password
Restaurant: Safe House
Where: Milwaukee, US
What's more exciting than a hip 1960s style spy-themed restaurant that requires a password upon entry? Safe House, situated in Milwaukee, has been operating since 1966 and was inspired by the 60s James Bond movie.
If customers forgot the entrance password, the doorman will assign them with a ridiculous task in exchange for an entry into this top-secret spy restaurant. You know what they say, anything worth having is worth working hard for!
14. A place where you can have breakfast with rare giraffes living in the wild
Restaurant: Giraffe Manor
Where: Kenya
So, I'm sure we've all heard about all these animal-oriented cafes opening up almost in every country. We've got owl cafes, rabbit cafes, cat cafes et cetera, but have you heard of dining with giraffes?!
The Kenya Manor in Africa allows guests and its rare Rothschild giraffes to mingle for an unusual but also majestic dining experience. The giraffes here are part of a conservation and breeding program.